Introduction
Urinary tract infections (UTIs) are among the most common bacterial infections1,2 and the third leading cause of infection-related hospitalizations in the elderly.3 Early intervention can help prevent these avoidable hospitalizations — but only if clinicians can detect the subtle signs.
Early Detection
In September 2022, a resident at a senior living facility in the Midwest suffered a fall. A few days later, the XK300 sensor detected subtle baseline changes in his heart and respiratory rates. Although his vital signs were still within "normal" limits, his care team kept a close eye for other changes.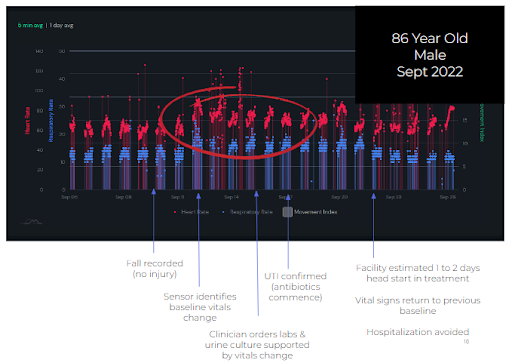 Powerful Results
Within days, clinicians ordered labs and a urine culture, confirmed a UTI and began antibiotics. The resident's condition improved quickly, he returned to his normal behavior patterns and hospitalization was avoided.
"This is a great example of the power of our Probability of Change in Condition (POC) Score — alerting clinicians when a patient's vital signs deviate from their own typical patterns, even if they are within normal limits," says Sam Yang, Co-founder, Xandar Kardian, Inc. "These subtle baseline changes can be early signs of serious events. The XK300 sensor gives clinicians the tools to spot them."
Meet the XK300
The XK300 uses radar monitoring to track heart rate, respiratory rate, motion and presence. In fact, it is the first commercially available medical device cleared by the FDA to do so. Our radar can sense through blankets, clothing, furniture and even drywall to detect micro vibrations from the body — safely. Discover how it can make a difference for your residents and staff.
Learn more
References
1Rao GG, Patel M. Urinary tract infection in hospitalized elderly patients in the United Kingdom: the importance of making an accurate diagnosis in the post broad-spectrum antibiotic era. Journal of Antimicrobial Chemotherapy 2009;63:5–6. [PubMed] [Google Scholar]
2Rowe TA, Juthani-Mehta M. Diagnosis and management of urinary tract infection in older adults. Infectious Disease Clin North Am 2014;28:75–89. [PMC free article] [PubMed] [Google Scholar]
3Goto T, Yoshida K, Tsugawa Y, Camargo CA, Hasegawa K. Infectious Disease -Related Emergency Department Visits of Elderly Adults in the United States, 2011 −2012. J Am Geriatr Soc 2016;64:31–6. [PubMed] [Google Scholar]