Introduction
Vital signs are critical indicators of patient condition, and changes can be powerful ways to detect potential deterioration early. But traditional approaches are often hindered by time-consuming manual efforts, low resident compliance and overburdened clinical staff. Continuous, contact-free monitoring can help — and it proved its value in this early retrospective analysis.
Pilot Implementation
In November 2021, a senior living facility in New York installed Xandar Kardian sensors to continuously monitor residents' heart and respiratory rates.
On November 24, a sensor detected unusual heart and respiratory rate patterns in a resident with no other unusual symptoms.
Over the next several days, the resident's vital signs continued to trend upward. Her heart and respiratory rates peaked on November 30, resulting in an emergency transfer to the hospital.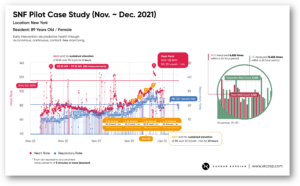 Powerful Detection
This retrospective analysis shows the XK300 sensor detected the upcoming deterioration five days earlier than traditional measures.
"Even subtle vital sign changes can signal danger — and this example makes the power of continuous, contact-free monitoring plain to see," says Sam Yang, Co-founder, Xandar Kardian, Inc. "When busy care teams can be alerted to potential deterioration sooner, they can intervene sooner and help change a resident's trajectory. At the end of the day, that's why we do what we do."
Meet the XK300
The XK300 uses radar monitoring to track heart rate, respiratory rate, motion and presence. In fact, it is the first commercially available medical device cleared by the FDA to do so. Our radar can sense through blankets, clothing, furniture and even drywall to detect micro vibrations from the body — safely. Discover how it can make a difference for your residents and staff.
Learn more